Auch wenn ich für diesen ganzen BMX-Kram wirklich viel zu alt und vor allem viel zu altmodisch bin, kann ich dem Rahmendesign von Svevo (Italienisch für "Schwäbisch") aus Stuttgart einiges abgewinnen – nicht nur, weil Gründer und Inhaber Thomas Dorsch konsequent auf Stahl baut. Und nicht nur, weil ich als Badener jetzt in Schwaben quasi um die Ecke wohne.
Svevo entwickelt und baut nicht nur auf der Eurobike 2008 preisgekrönte BMX-Räder, sondern ganz neu auch das Métisse, laut eigener Aussage "… the combination of  BMX and fixed gear dna." Was für eine knackige Geometrie und ebensolches Fahrverhalten spricht.
Der muffenlos gelötete Stahlrahmen aus True Temper und Columbus Rohren (Gabel aus True Temper OS Platinum) kommt in den beiden Größen 500 und 550 daher, ist standardmäßig in "Jetblack" lackiert, gegen Aufpreis aber auch in jeder RAL-Farbe zu bekommen.
Das Rahmen-/Gabelset inklusive integriertem Campagnolo-Steuersatz ist für 770 Euro käuflich zu erwerben.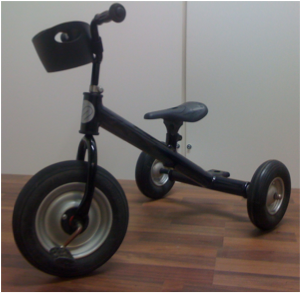 Svevo denkt auch an unsere kleinsten Erdenbürger und baut ein cooles Dreirad namens "cosmo". Eine besonders geschmackvolle Anschaffung "If you can`t stand the babyblue and pink rigs anymore!" Und damit unverzichtbar für jeden gelungenen Spielplatzaufenthalt, bei dem das Neidpotenzial anderer Eltern (und Kinder) mit Sicherheit ausgereizt wird.

Wie nicht anders zu erwarten, ist Svevo auch auf der EHBE in Schwäbisch Gmünd vertreten. Man sieht sich.