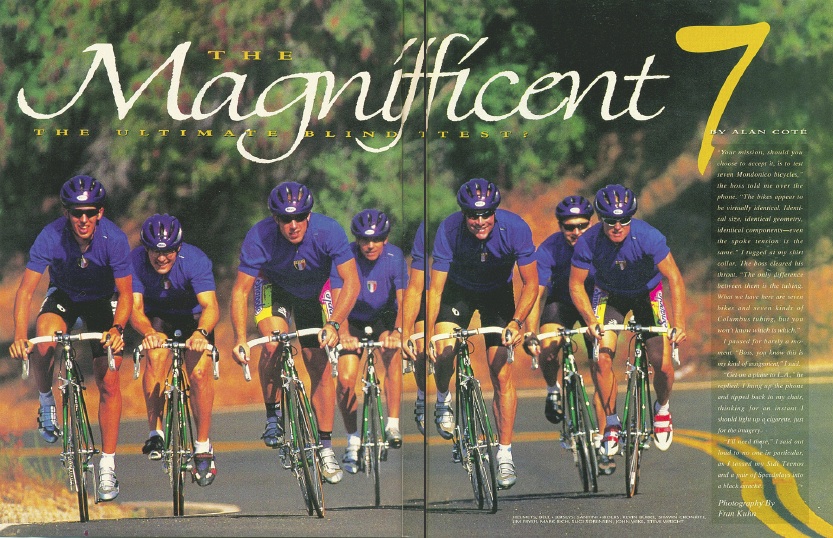 Vor kurzem entdeckte ich einen spannenden Artikel von 1998. In diesem ging es um einen Vergleichstest von 7 Rennrädern, die von Rahmenbauer-Legende Mondonico (heute vertrieben von Smart Cycles) mit exakt derselben Geometrie, aber aus 7 unterschiedlichen Columbus-Rohrsätzen gefertigt wurden. Klar, dass auch die Komponenten einheitlich waren.
Im Test drehte es sich also darum, welches Rohrmaterial in einer Preisspanne von 460 Dollar (Columbus Aelle) bis 1.275 Dollar (Columbus EL-Oversize) sich für den Testfahrer als "das Beste" herauskristallisieren würde. Klar, dass sämtliche Decals entfernt wurden, um einen echten Blindtest zu gewährleisten.
Um das erwartete Fazit vorweg zu nehmen: Es ist alles subjektiv. Während sich der Thron-Rahmen als komfortabelster erwies, schien der Neuron-Rahmen der steifste zu sein. Interessant auch, dass der Tester zwischen dem günstigsten Aelle und dem teuersten EL-OS keinerlei Unterschiede "spüren" konnte, was allen theoretischen Steifigkeits-/Gewichtswerten und der Marketing-Positionierung wiederspricht. Noch interessanter, dass der Tester davon überzeugt war, bei einem erneuten Test ohnehin zu einem ganz anderen Urteil zu kommen.
Letztendlich bleibt das, was viele Teilnehmer an Radforen und Messwerte-hörige Radler, die immer wieder das "beste" Material suchen, anscheinend nicht wahrhaben wollen: "What do these seven Mondonico say about bike performance and testing? Perhaps more than anything, they illustrate that the personality of a bike is determined much more by fit, frame geometry and components than by what kind of tubing lies under the paint."
Genau: Es kommt alles darauf an. Und vor allem auf die individuellen Vorlieben und Körpereigenschaften, die sich sogar im Highend-Labor des Tour-Magazins nicht über den massenkompatiblen Kamm scheren lassen.
Übrigens: Stahlrahmen-Interessenten finden im Artikel auch ein paar spannende technische Fakten, die mit Mythen von Gewicht, Wandstärken und Steifigkeitswerten aufräumen.
Urteil: In jedem Fall lesenswert und hier komplett als PDF herunterzuladen.