Man könnte viel darüber schreiben, welche unterschiedlichen Motive Bikeproduzenten oder Rahmenbauer antreiben, welches Qualitätsbewusstsein sie haben und welche Kompromisse sie einzugehen bereit sind, um ihr Geschäftsmodell oder schlicht und einfach ihre persönliche Idee vom Fahrrad umzusetzen.
Stijn von den gleichnamigen Cycles hat hier (wie jeder) auch seine individuelle Einstellung, was mitunter den öffentlichen Eindruck erweckt hat, dass irgendwie nichts mehr passieren würde. Dem ist er schon vor einigen Wochen mit einem Blogbeitrag entgegen getreten, den ich mit einem Zitat zusammenfassen möchte, das wirklich alles Wichtige enthält: "I am very demanding and don't wanted to sell anything below my expectations. After all, my name is on there and in my opinion there's no point in selling frames just because you can."
Pünktlich zur Eurobike hat Stijn dann auch ein neues Modell mitgebracht, das seinen Erwartungen voll und ganz entspricht: The MIKE.
Der rollende Michael ist die äußerst knackige Version eines 29ers mit sagenhaften 405 mm Kettenstreben. Das hat Auswirkungen auf den Umwerfer, der schlicht und einfach fehl am nicht vorhandenen Platz ist. Was wiederum Auswirkungen auf das Gangspektrum hat: vorne wirbelt eine Einfachkurbel mit 29 Zähnen, während hinten eine Custom-Nabe mit entsprechender Custom-Kassette (9-36 Zähne) mit der Kette spielt. Wer es nicht so mit Gängen hat, kann The Mike übrigens auch als Singlespeeder fahren.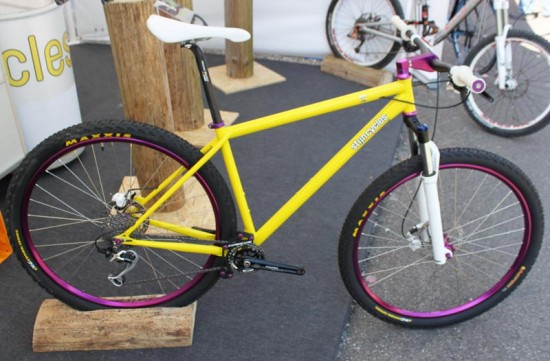 Basis der Berg- und Talziege ist ein Custom-Stahlrohrsatz mit minimalen Wandstärken bis 0,4 Millimeter, was für eine gewisse Leichtigkeit sorgen dürfte. Was noch? Gabeln von 80-120 mm sind drin genauso wie Steuerkopfwinkel von 68-70° und innenverlegte Bremszüge.
Die Produktion startet im Frühjahr, eine Warteliste wartet auf ungeduldige Käufer, die rund 750 Euro für dieses Geschoss ausgeben möchten. Was mir fast schon unverschämt günstig vorkommt.