Wenn wir schon beim Thema Mixte-Rahmen sind, darf dieses originelle Modell von Olson Bicycles aus Sussex/UK nicht fehlen – wenn auch auf etwas andere Art und Weise als gewohnt.
Produktdesigner Steven Olson, der auch schon Fahrräder für On One und Cooper Bikes entwickelt hat, realisiert hier die Idee, MTB-Rahmen aus extrem dünnwandigem Edelstahl wie Reynolds 953 oder Columbus XCr zu fertigen und die Rahmenrohre durch speziell entwickelte Muffen zu verbinden, um sie auch für den Geländeeinsatz widerstandsfähiger zu machen.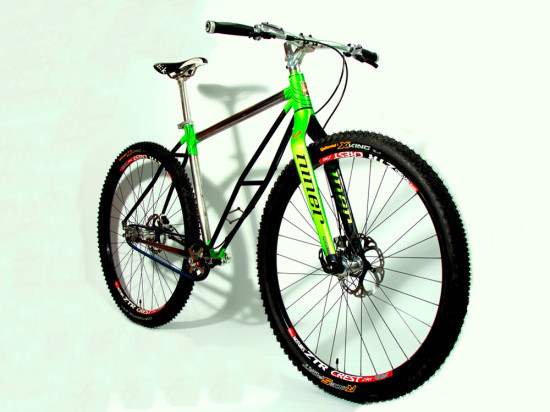 Als Ergebnis sind nun 4 Rahmenvarianten mit gleicher Konstruktion geplant, aber unterschiedlichen Materialien und Einsatzzwecken. Allen Rahmen gemeinsam ist das geteilte Unterrohr im Mixte-Stil,  das 92mm Pressfit Innenlager, spezielle Ausfallenden zur Öffnung des Rahmens für den Gates Riemenantrieb sowie ein Tapered Steuerrohr mit integriertem Hope Steuersatz.

Das Bike ist als Singlespeeder oder mit Naben- bzw. Kettenschaltungen fahrbar. Zudem sind sämtliche Laufradgrößen vom 26er über 650B bis zum 29er und 700c realisierbar.
Daraus ergeben sich die folgenden Olson Modelle:
The Lamb: Reynolds 953 MTB
The Swan: 4130 CrMo MTB
The 8 Bells: Tourer und Gravel Racer
The Ram: Das Ganze mit Pinion-Antrieb
All das ist übrigens noch ein wenig Zukunftsmusik und in der Finanzierungsphase bei Kickstarter. Schauen wir mal, was tatsächlich realisiert wird. Aber ein frischer Ansatz ist es allemal.