Nach Episode 12 sind wir, in unserem zweiwöchentlichen Rhythmus, nun bei Noras vierzehnter Episode ihrer Reise ans Nordkap angekommen – es bleiben nur noch 6 Tage!
Episode 13 findet ihr hier.
Eine Übersicht aller Episoden findet ihr auf Noras Blog.
RIDE YOUR BIKE! Von Nürnberg zum Nordkap in 30 Tagen. EPISODE 14: On the road (IV)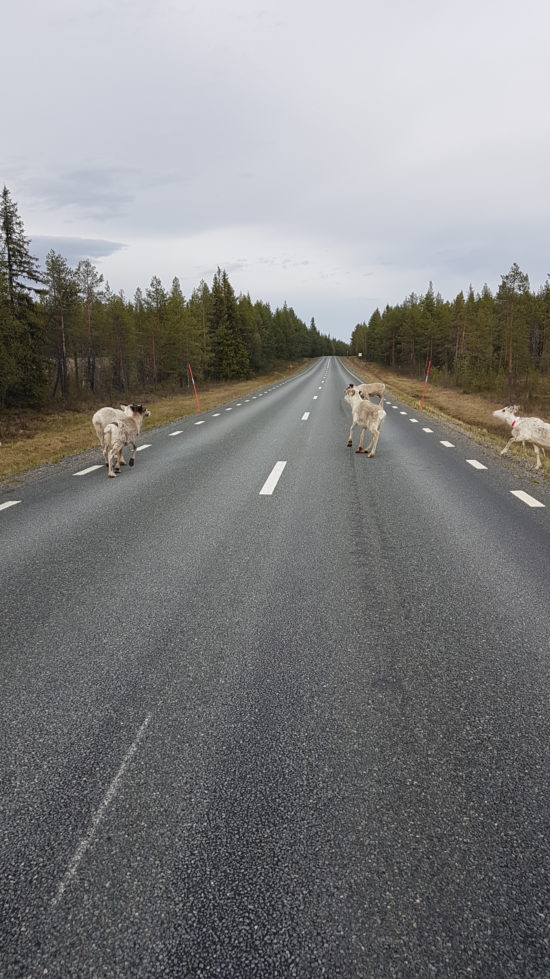 Es ist der dreiundzwanzigste Tag auf der Straße. Die E45 ist einsam geworden, die Lücken zwischen den Städten, Ortschaften, Gehöften immer größer, bis ich schließlich begreife, dass die Lücken zwischen der Zivilisation nicht größer wurden, sondern nur die Risse in der Natur kleiner.
Jetzt ist sie überall.

Und es sitzt mir jenes leise Wispern im Rücken, das die Ohren spitzt und auf Gefahr lauscht. Ich bin unruhig. Ich bin so viel Wildnis nicht gewohnt. Die Wälder sind endlos um mich, dazwischen Marschland und Totholz.
Ich klammere mich an die Straße wie ein Ertrinkender. Der Teer und die ausgewaschenen Begrenzungslinien werden mir zum letzten Bollwerk der Zivilisation gegen die Wildnis, die alles zu verschlingen droht. Und so scheinen auch die wenigen Höfe, die sich hier verstecken, ihr Heil in der Illusion von Ordnung zu suchen. Das Stück Rasen um die Häuser ist penibel gestutzt und perfektionistisch gepflegt. Pastellfarben-liebliche Deko steht in den Gärten und auf Fenstersimsen und überall herrschen klare Strukturen. Verzweifelt, möchte man sagen, denn nur wenige Meter entfernt beginnt die endlose Wildnis.
Kultivierte Vorgärten neben Rentierleichen. Kultur neben Natur.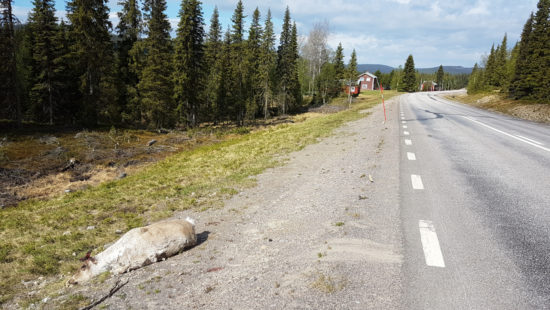 Was versuchen wir hier, wenn nicht, die Wildnis im Zaum zu halten. Keeping the wild at bay. Das Englische findet ein passendes Bild dafür. Wir stellen uns gegen die Flut des Wilden, Unbeherrschten und potentiell Unbeherrschbaren. Mit jedem rasierten Rasen. Mit jedem fein säuberlich platzierten Gartenzwerg. Mitten in der Wildnis wird hier Kulturlandschaft geschaffen, ein Mikrouniversum der seeligen Illusion von Sicherheit durch Ordnung. Es erinnert an die Anfangsszene aus M.Night Shyamalans The Village, in der eine Bande pausbäckiger Halbstarker sich der ultimativen Mutprobe stellt: Mit dem Rücken zum tiefen, dunklen Wald, der das Dorf umgibt und von vermeintlichen Ungeheuern heimgesucht wird, stellen und die Augen schließen. Und nicht umdrehen. Egal, was man hört. Nicht umdrehen.
Auch ich schaffe mir mein Mikrouniversum illusionärer Sicherheit. Hier in meinem Zelt. Schließe ich den Reißverschluss und krieche ich in den wohligen Kokon meines Schlafsacks fühle ich mich sicher. Hier herrscht Ordnung. Hier haben alle Dinge ihren von mir zugewiesenen Platz. Hier schaffe ich Kultur in Mikrowelten.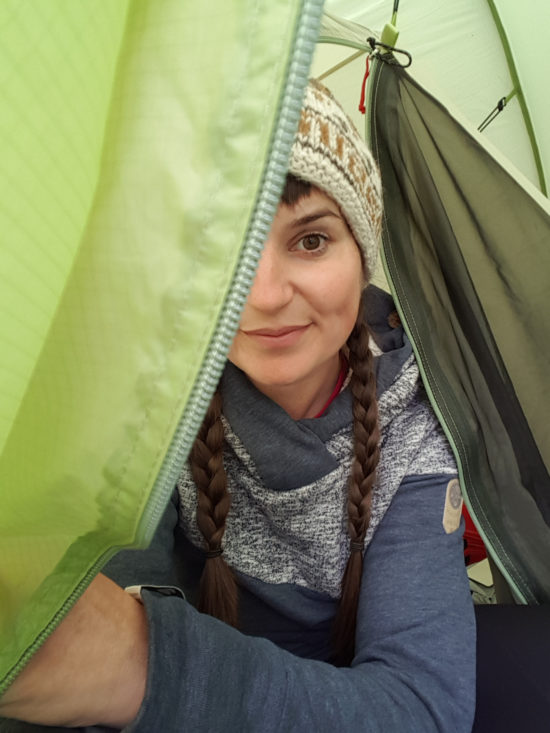 Draußen, indes, bleibt freilich die Wildnis und die Dunkelheit. Und meine Zeltwände halten nichts ab außer Regen und böse Träume. Aber das reicht. Zumindest für unseren Geist. Hier bin ich sicher. Die Illusion ist ebenso vollkommen wie letztlich fragil. In meinem Papierhaus aus konstruierter Sicherheit habe ich keine Angst im Dunkeln. Es ist ein bißchen so, wie die Hände über die Augen zu legen, wenn das Monster unterm Bett uns erspäht hat. Es ist Irrsinn. Aber es hilft.
Vielleicht ist das der Ursprung aller Kultur – weil wir Angst im Dunkeln haben. Und da ich hier in meinem Zelt sitze und mit allen Mitteln die Nacht aussperre und das schreibe, erinnere ich mich an Margaret Atwoods großartige Kurzgeschichte "Das Zelt", die von eben jenen Ängsten und Illusionen handelt: "Warum glaubst du, dass dein Schreiben, diese Graphomanie in einer dürftigen Höhle, dieses Hin- und Her- und Rauf- und Runtergekritzel auf den Wänden dessen, was nun wie ein Gefängnis vorzukommen beginnt, in der Lage sein sollte, überhaupt irgendjemanden zu beschützen? Dich eingeschlossen. Es ist eine Illusion, dieser Glaube, dass dein Buchstabensalat eine Art Panzer ist, so etwas wie ein Zauber, denn niemand weiß besser als du, wie zerbrechlich dein Zelt in Wirklichkeit ist."

Die Szene endet damit, dass die Ängste, die Wildnis, und all jenes, das da draußen lauert, nicht at bay gehalten werden kann: "Wind kommt herein, deine Kerze fällt um und flammt auf, und eine lose Ecke des Zeltes fängt Feuer, und durch den sich weitenden, schwarzgeränderten Riss kannst du die Augen der Heulenden sehen, rot und im Licht deiner brennenden Papierzuflucht glänzend, aber du schreibst trotzdem weiter, denn was sonst kannst du schon tun?"
Also schreiben wir weiter, stellen weiter Gartenzwerge in den Vorgarten und entzünden Kerzen in der Nacht. Machen wir Kultur, damit wir keine Angst im Dunkeln haben müssen.
Und in der nächsten Episode:
---
Episode 13 auf Noras Blog
Episode 12
Episode 11
Episode 10
Episode 9
Episode 8
Episode 7
Episode 6
Episode 5
Episode 4
Episode 3
Episode 2
Episode 1
Instagram: beyer.nora
Twitter: @norabeyer
Facebook: Nora Beyer
Bilder: Nora Beyer
Text: Nora Beyer / André Joffroy