Irgendwann nach Start des Stahlrahmen-Blogs 2010 hatte ich mal die Idee, gemeinsam mit deutschen Rahmenbauern einen Jahreskalender mit ausgesuchten Schönheiten ihrer Werke zu produzieren. Wie das dann gelegentlich so ist, fehlte mir der notwendige Biss, die Idee in ein echtes Projekt zu verwandeln, das auch halbwegs professionellen Ansprüchen genügen würde.
Sprich: Mit einem thematischen Konzept anstelle wahllos "schöner" Fahrradmotive, einem Fotografen, der die Räder gekonnt in Szene setzen könnte und einem Layouter, der Konzept und Fotos in ein visuelles Gesamtwerk gießen würde.
Gut, wenn es Menschen gibt, die an dieser Stelle mehr Biss haben als ich.
Der nagelneue Bike-Kalender "One Year of Bicycles" kommt meiner Vorstellung eines professionellen kalendarischen Jahresbegleiters mehr als nahe. Das Team aus Peter Rüssmann (Fotografie), Patrik Hanuschka (Retusche), Daniel Weiss (Layout) und vor allem natürlich Nico Thomas (Fahrrad-Restaurator) hat ein wirklich zauberhaftes Wandobjekt "für Velosophen" auf die Beine gestellt.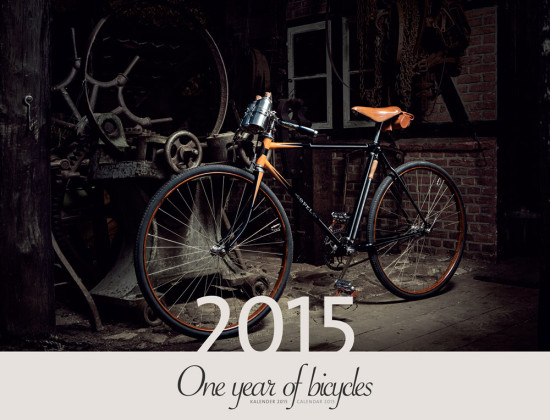 Hier werden Monat für Monat traumhaft restaurierte, historische Fahrräder in rustikalem Scheunenambiente ins beste Licht gerückt. Die Fahrräder allein wären im Grunde schon Hingucker genug. Im Zusammenspiel mit der Auswahl der Hintergründe und einem feinen Händchen von Fotograf und Retuscheur ergibt sich jedoch ein wahrer Augenschmaus für den Betrachter.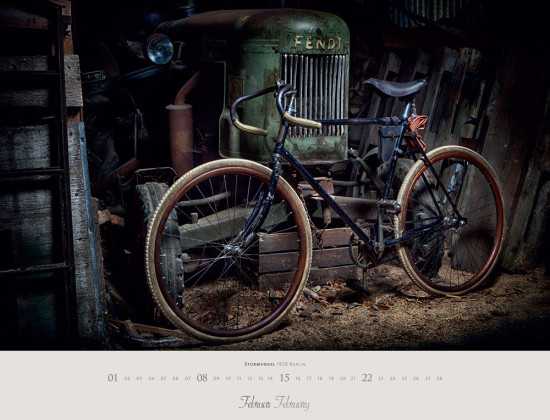 Bei manchen Motiven scheint der etwas unruhige Hintergrund den konzentrierten Blick aufs Rad ein wenig abzulenken. Aber letztendlich macht es sogar Spaß, das Foto nach spannenden Details zu durchsuchen, die nichts mit dem Rad zu tun haben. Auch das großzügige Kalenderformat von 70 x 50 cm sorgt dafür, dass man für den Detailgenuss keine Lupe braucht.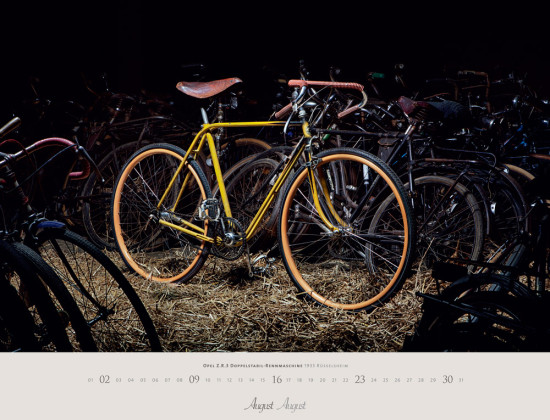 Um den Käufer nicht mit den Rädern allein zu lassen, werden die spannenden Geschichten zu den einzelnen Modellen im Anhang des Kalenders erzählt – auf Deutsch und Englisch.
Kurz gesagt: One Year of Bicycles ist eine wundervolle, gelungene Reise in die Vergangenheit des Fahrrads … und ein toller Begleiter für velophile Menschen durchs kommende Jahr 2015.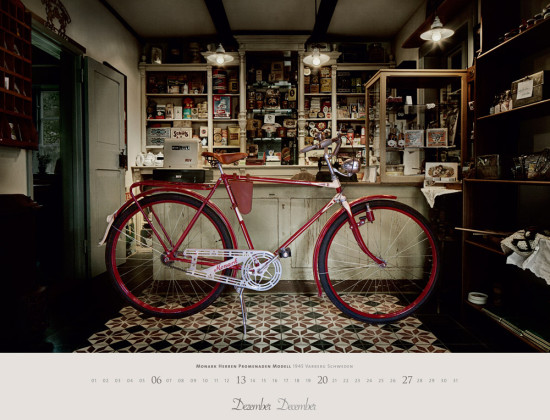 Wer sich mit mir ein Jahr lang in Zauberhaft begeben möchte, kann dies für 39,95 Euro zzgl. 5,90 Euro Versand tun. Der Kalender ist über die Website käuflich zu erwerben.