Viele Radsportler, die sich im Winter nach etwas besserer Form fürs Frühjahr sehnen, zieht es nach Mallorca. Die Inselbewohner haben dies schon länger erkannt und mehr und mehr spezielle Radlerhotels für diese Zielgruppe eröffnet.
Neben diesem Standardangebot gibt es seit kurzem im Herzen der Insel einen Platz, der weniger Hotel, als vielmehr gemütliches Trainingscamp mit wissenschaftlicher Unterstützung ist. MA-13 ist eine Erfindung von Jan Eric Schwarzer, seines Zeichens deutscher Stehermeister von 2007 (das sind die merkwürdigen Typen, die hinter einem Motorrad im Affenzahn über die Bahn brennen ;o)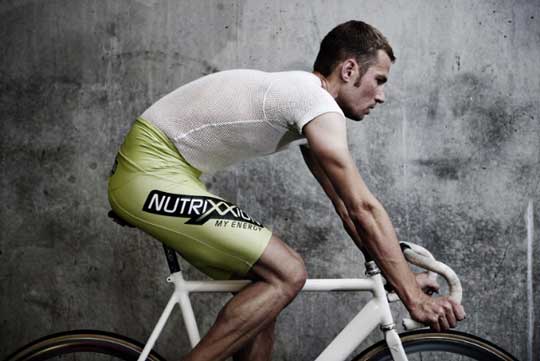 (das ist Jan Eric … ohne Motorrad)
So funktioniert's: In einem echt schnuckligen Häuschen in Sineu können Radler und andere Sportler aller Leistungsklassen einen Trainingsurlaub verbringen. Damit es nicht zu viel der Entspannung wird, bekommt man von Diplom Sportwissenschaftler Jan Eric individuelle Trainingsprogramme, fundierte Tipps und spannende Routenpläne aus Sicht des quasi Einheimischen, also eine Art Formaufbau- oder optimierungsurlaub mit Lokalkolorit.
Seit der Eröffnung im letzten Jahr wird MA-13 auch schon von Top-Profis frequentiert, die dem Winter ein Schnippchen schlagen wollen. Das Neueste ist jetzt aber die erste Fixie Week, die vom 7. – 14. Mai 2011 veranstaltet wird. Warum das der Stahlrahmen-Blogger auch als eingefleischter Mehrgangfahrer spannend findet, erfahrt Ihr in den Antworten auf die 10 Fragen, die ich Jan Eric stellen durfte (und besonders in Frage 6, in der es um die Fixies für Malle geht):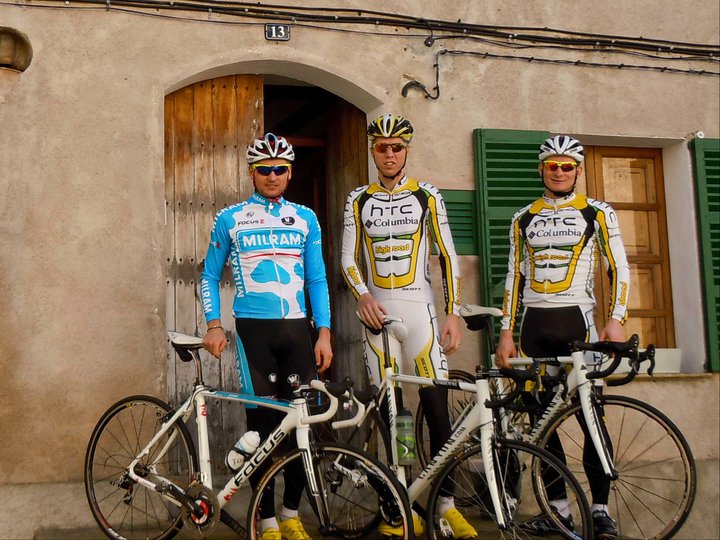 (das sind Profis: Paul Voß, Marcel Sieberg und André Greipel)
1) Seit wann gibt es MA-13 und wie würdest Du Dein Konzept kurz beschreiben? MA-13 gibt es erst seit Oktober 2010, die Idee ist aber schon sehr lange gereift. Mein Konzept kurz zu beschreiben, fällt mir sehr schwer, denn mein ganzes Herzblut steckt darin und ich könnte ewig schwärmen. Mit MA-13  habe ich einen Ort geschaffen, an dem sich Gäste zuhause fühlen. Das war mein Ziel. Hinzu kommen mein sportwissenschaftlicher Hintergrund und meine Praxiserfahrung aus dem Profibereich. Diese Kombination macht mein Projekt einzigartig und so interessant für alle, die das Besondere suchen.
2) Was unterscheidet MA-13 von den vielen Radhotels auf Mallorca? Meine Erfahrung hat gezeigt, dass diese Hotels sich zwar sehr gut auf Radsportler eingestellt haben, jedoch ein echtes Wohlgefühl nicht aufkommen will. Dieses Gefühl habe ich immer dann auf der Insel genießen können, wenn ich privat bei Freunden oder später im Haus meiner Eltern Unterschlupf finden durfte. Immer dann, wenn sich dieses Gefühl einstellte, hatte ich die besten Trainingserfolge. MA-13 bietet nun genau das, es gibt alles was das Radsportherz begehrt. WLAN, Waschmaschine, Trockner, Videospiele und gutes Essen etc.
Fühlst Du Dich wohl, trainierst Du auch gut!
3) Wie sieht das Kundenspektrum bei MA-13 aus? In den Monaten von November bis Ende Januar geben sich die ProTour Jungs die Klinke in die Hand. Da ist MA-13 der place to be für den Formaufbau der neuen Saison.  MA-13 ist aber für alle offen und gerade im Frühjahr kümmere ich mich dann als Sportwissenschaftler und Mallorca-Experte um Gäste aller Leistungsklassen. Ich baue die Zeit des Aufenthaltes trainingswissenschaftlich auf und so gehen meine Gäste mit sinnvollen Trainingskilometern zurück in die Heimat.
4) Wie bist Du darauf gekommen, eine "Fixie-Week" zu veranstalten? Die Idee der Fixie-Week ist mir wie alle guten Ideen beim Radfahren gekommen. Die Szene hat mich schon zu meiner Zeit in Köln begeistert. Da lag es nahe, dies mit Mallorca zu verbinden. Der Mai ist eine wundervolle Jahreszeit um Radfahren so richtig zu genießen. Das Ziel der Week ist Spaß Spaß Spaß und Mallorca von der schönsten Seite kennen zu lernen, nämlich von dem Rad!
5) Was hat das Programm der Fixie-Week zu bieten? Das Programm bietet in erster Linie Spaß. Ich möchte meinen Gästen zeigen, wie schön die Inselmitte ist und werde die Routen so wählen, dass wir nur abseits der Hauptstraßen Cruisen werden. Hinzu kommt eine kleine Einführung auf das Fahren auf einer Radrennbahn, eine Stadtrundfahrt mit den Velos durch Palma und als Königsetappe die erste Puig Major Überquerung mit Fixed Bikes.
6) Welche Eingang-Räder kommen bei der Fixie-Week zum Einsatz? Ohne einen genauso engagierten und begeisterten Partner in Deutschland hätte ich das Projekt kaum starten können. Darum bin ich froh, mit der Firma Pure Bros Cycles einen tollen Partner gefunden zu haben, die einen Teil der Räder stellen werden (das sind natürlich Stahlbikes, Anm. d. Red.). Die Teilnehmer werden aber sicher auch eigene richtig ausgefallene Räder mit auf die Insel bringen.
7) Was sind aus Sicht des Sportwissenschaftlers die Besonderheiten beim Training mit einem Eingangrad z.B. im Vergleich mit einem klassischen Rennrad? Die Besonderheiten liegen vor allem darin, dass es keine Ruhephasen gibt. Ein Beinehängenlassen verzeiht der Starrgang nicht. Außerdem wird der ominöse Runde Tritt geschult.
8) Bist Du bei allen Fahrten der Fixie-Week dabei oder gibst Du vor allem Trainingspläne und –routen vor? Den Spaß lasse ich mir nicht nehmen. Ich begleite die komplette Woche. Hinzu kommt noch die Betreuung von einem Mechaniker, der bei großen Etappen mit Service Car die Gruppe begleiten wird.
9) Welches Rad fährst Du selbst auf Mallorca am liebsten? Oh, das ist schwer. Die Insel bietet für alle Radsportarten einmalige Möglichkeiten. Für einen Coffe-ride nehme ich das Pure Bros Fixie am liebsten, für eine Bergtour mein Teamrad von Nutrixxion.
10) Was sind Deine nächsten Projekte, Pläne oder Events? Das Frühjahr wird zeigen wie MA-13 angenommen wird und wohin die Reise geht. Ich plane im Sommer noch ein paar Steherrennen in Deutschland zu fahren mit dem Ziel mich für die EM zu qualifizieren. Mein größtes Projekt ist im Moment die Fixie Week, aber wer weiß was noch für Ideen beim Radfahren unter der mallorquinischen Sonne geboren werden.
Übrigens: es sind nur noch wenige Plätze frei. Preise und Infos findet Ihr hier!