Rahmenbau ist eine Leidenschaft und Herzensangelegenheit, die sich nicht primär am wirtschaftlichen Erfolg orientiert. Eine Aussage, die ich selbst in vielen Gesprächen mit Rahmenbauern in verschiedenen Ausprägungen hören durfte und (als kommerziell fokussierter Werbetexter) erst einmal lernen musste.
Dennoch müssen auch professionelle Rahmenbauer ihre Miete zahlen und ihren Lebensunterhalt bestreiten. Das funktioniert nur über eine gewisse Menge an produzierten Rahmen pro Jahr und einen Bekanntheitsgrad, der sich letztendlich aus der Originalität und Qualität der gefertigten Rahmen und einem gewissen Maß an Kommunikation und Außendarstellung ergibt. Nur so lässt sich überhaupt ein Einkommen aus dem Rahmenbau erwirtschaften, wenn man nicht nur für den Freundes- und Bekanntenkreis bauen möchte.
Hilfreich dabei ist eine gewisse Differenzierung zu den Wettbewerbern, ein eigener Stil, der für potenzielle Kunden tatsächlich sichtbar ist und der die berühmte Frage beantwortet, warum man einen Rahmen von diesem speziellen Rahmenbauer kaufen sollte und nicht von einem anderen. Und hier kommt das Problem: mit wachsender Zahl an Rahmenbauern werden auch die Differenzierungsspielräume enger, das eigene Profil unschärfer, die kommunizierbaren Argumente gehen aus.
Ben Farver aka Argonaut Cycles aus Portland/Oregon, seines Zeichens einer der unzähligen Stahl-Rahmenbauer in den USA, hat nun die Konsequenz aus diesem Dilemma gezogen und die Stahlrahmen-Produktion komplett eingestellt. Ab sofort wird er nur noch Custom-Bikes in Carbon herstellen. Die Arbeit an einem Prototypen läuft bereits.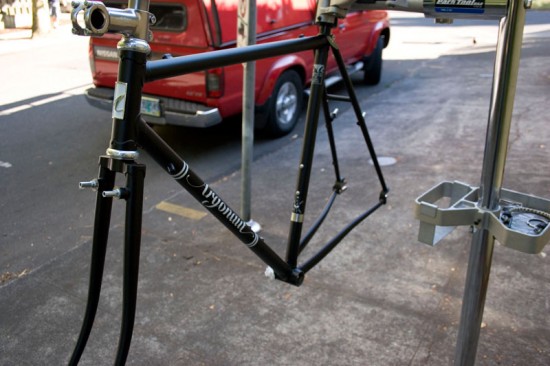 Seine Argumente, die er in einem Abschieds-Blogpost darlegt, klingen überzeugend:
Ein übersättigter Markt mit zu vielen Rahmenbauern, die alle irgendwie dasselbe machen und keine Differenzierung zulassen
Minimale Marge pro Stahlrahmen bei einem überschlagenen Stundenlohn von 11-12 Dollar (= 8 Euro!!!), wenn man Design, Maßnehmen, Produktion und  Kundenkommunikation einbezieht (was man im Grunde tun sollte)
Das ist traurig, aber letztendlich doch nur der Alltag im Wirtschaftsleben, insbesondere bei den Massen an US-amerikanischen Rahmenbauern, bei denen man wirklich schnell den Überblick verliert.
Wenn man eine Nische findet, in der man eine Alleinstellung besitzt, steigen die Erfolgschancen, auch wenn die Nische allein noch nicht bedeutet, dass ein Interessent diese wirklich bewusst wahrnimmt. Ist man einer unter Vielen, hilft in der Regel nur sehr viel Glück, das langfristig aber meist nicht von Dauer ist. Wobei sich natürlich immer die Frage stellt, wie man "Erfolg" definiert und wo die individuelle Schmerzgrenze liegt.
Ben hat es getan und seine Antwort gefunden: "Framebuilding is a labor of love, don't get me wrong, but the opportunity for success in the long run is not high."
Und das war's dann mit dem Stahlrahmenbau.