Über das 40jährige Jubiläum des kanadischen Rahmenbauers Marinoni und das dazu gehörige Jubiläumsmodell 40 SL bzw. 40 Zona habe ich bereits im Februar berichtet.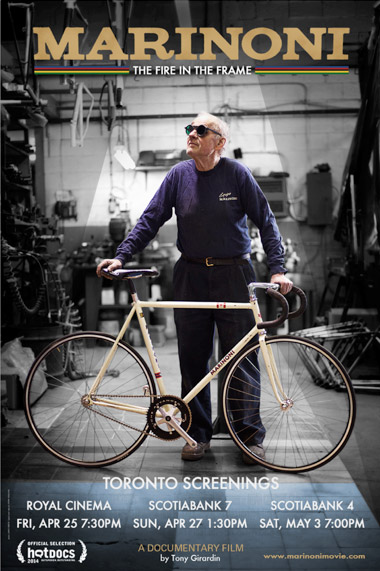 Nun steht ein Film über Meister Giuseppe Marinoni in den Startlöchern, den der kanadische Filmemacher und Rad-Enthusiast Tom Girardin gedreht hat (danke für den Tipp Achim!!!).
Im Film "Marinoni: The Fire in the Frame" geht es u.a. um den Stundenweltrekord-Versuch von Marinoni im Oktober 2012 in der Altersklasse Ü75 und die Vorbereitung darauf. Darüber hinaus hat Girardin den Rahmenbauer über einen langen Zeitraum durch den Alltag begleitet und erweitert und vertieft so die Geschichte des Stundenweltrekords um dessen Gedankenwelt.
Der Stundenweltrekord Ü75 liegt nun übrigens bei 35,728 km, aufgestellt von Giuseppe Marinoni auf dem Montichiari Velodrom in Brescia. Er nutzte dabei ein 1978 gebautes Marinoni-Trackbike, mit dem Jocelyn Lovell 3 Goldmedaillen bei Commonwealth Games und eine Silbermedaille bei Weltmeisterschaften errungen hatte – bevor ihn ein schwerer Trainingsunfall an den Rollstuhl fesselte.
Die Weltpremiere feierte der Film bereits im April 2014 beim Toronto Hot Docs Festival. Ins Kino kommt er im November (in Kanada). Und auf DVD ist er – wenn ich es richtig verstehe – ab Frühjahr 2015 erhältlich.
Hier der offizielle Trailer:
Und hier ein Film über das Training: