Monat für Monat freue ich mich darauf, eine gewisse Handbewegung durchzuführen: und zwar das Umblättern des tollen Fahrrad-Kalenders "One Year of Bicycles", der erstmals Ende letzten Jahres erschien und über den ich schon berichtet habe.
Zum Glück wird mir das kommende Jahr ähnliche Glücksmomente bescheren, denn der neue Kalender ist seit einiger Zeit zu haben.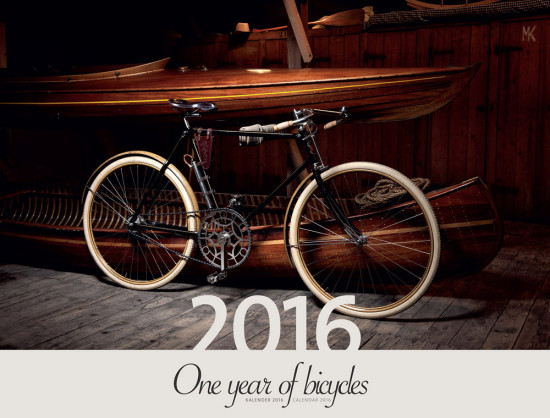 Wie schon in der aktuellen Ausgabe haben Peter Rüssmann (Fotograf), Nicolai Thomas (Fahrrad-Restaurator) und Daniel Weiss (Layout) wunderschöne historische Fahrräder vor einem besonderen Hintergrund in Szene gesetzt und in einen hochwertigen Kalender übertragen. Das Ergebnis ist ein wirklich sehenswerter Zierrat z.B. für die Wand des Arbeitszimmers, wie in meinem Fall.
Hier einige Beispiele der neuen Kalender-Motive. Der ganze One Year of Bicycles Fahrrad-Kalender ist für faire 39,95 Euro online zu erwerben.