Man muss neidlos anerkennen: wenn Rapha etwas rund ums Fahrrad und den Radsport anpackt, kommt in der Regel etwas Zeitloses am finalen Ende der Qualitäts- und Styleskala heraus, ohne irgendeinem aktuellen Trend zu folgen. Jetzt haben sich die Freunde von der Insel etwas einfallen lassen, was irgendwie passend und logisch erscheint: die Rapha Bicycle Collection.
Wie nicht anders zu erwarten, findet der geneigte Qualitätsradler hier nur feinste Ware von der Crème de la Crème der internationalen Rahmenbauerszene. Überaschenderweise sind von den vier Modellen im Stall gleich zwei aus Stahl und eines aus Edelstahl. Was dem Stahlrahmen-Blogger ein hocherfreutes und zustimmendes Lächeln ins Gesicht zaubert.
Der Commuter Every Day von Beloved wird in Portland von Chris King produziert. Es besteht aus einem äußerst klassisch gemufften plus muffenlos gelöteten Rahmen aus dem guten, alten Columbus SL und einer True Temper Gabel, einer Sturmey Archer 5-Gang Nabenschaltung und vielen Top-Komponenten von Chris King, Paul, Nitto, Berthoud uvm. Das "Alltägliche" wird als Komplettbike für 5.200 Dollar (ca. 4.000 Euro) plus Versand angeboten – mit beachtlich flotten 8 Wochen Lieferzeit.
Das Rapha Continental ist eher Langstrecken-Experte als Sprinter, gefertigt von den beiden Meistern Ira Ryan und Tony Pereira. Der Rennrad-Tourer-Mix besteht aus einem Columbus Zona/Spirit und kombiniert auch klassisch Gemufftes mit Fillet Brazed. SRAM Force, Chris King, FSA, DT Swiss und Fizik sind u.a. die weiteren Beteiligten. Das Ganze ist für 5.000 Dollar (ca. 3.800 Euro) komplett zu haben – wenn man in den beiden Bestellperioden im Januar/Februar und Mai/Juni eines von den jeweils 50 Exemplaren erwischt. Lieferzeit 3-4 Monate.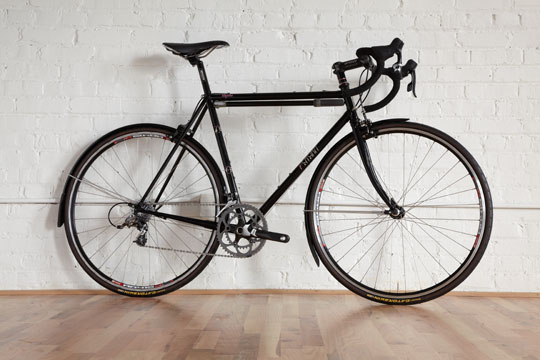 Der Rapha Cinelli XCR Criterium Racer ist eher etwas für die ganz schnellen Jungs und Mädchen. Er wird aus rarem Columbus XCR Edelstahl gefertigt und dürfte mit nur 30 Exemplaren schon vor Verkaufsstart erheblichen Sammlerwert haben. Das Rahmen-/Gabelset kostet 3.500 Dollar (2.700 Euro) und erfordert rund 4 Monate Geduld auf die Lieferung.
Nummer Vier im exklusiven Rapha-Stall ist der XS Carbonrenner von Independent Fabrication, dessen Anziehungskraft (und Abbildung) ich mich nur durch die Tatsache entziehen kann, dass der Stahlanteil am Rahmen gegen Null tendiert. Aber Anschauen ist ja erlaubt. Und bei 6.795 Dollar (5.200 Euro) für das Rahmen-/Gabelset sollte man schon Mal einen neugierigen Blick riskieren.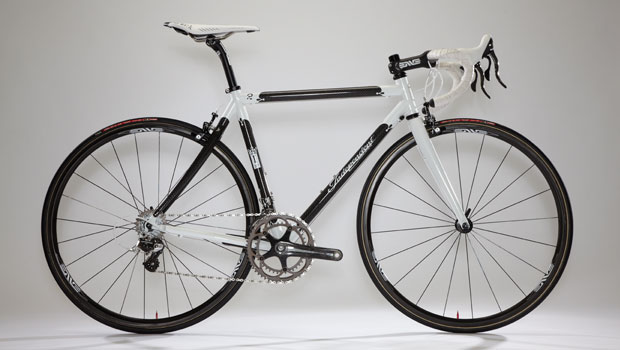 Also viel Hochwertiger geht's nicht. Und es verwundert nicht, dass diese Sammlung von Rapha kommt. Auch klar ist: wer nicht gleich bestellt, geht mit Sicherheit leer aus. Denn das werden sich viele Qualitätsradler und Sammler weltweit nicht entgehen lassen.
Ladies and Gentlemen: Start your engines! And open your wallets!
---