Immer mehr Radhersteller springen auf den Riemenzug auf und nutzen den Gates Carbon-Riemenantrieb für Radmodelle unterschiedlicher Einsatzgebiete.
Die Karlsruher Fixie. Inc. setzt nun auch für ihr aktuelles 2010er Modell "Peacemaker" auf den Kettenersatz von Gates.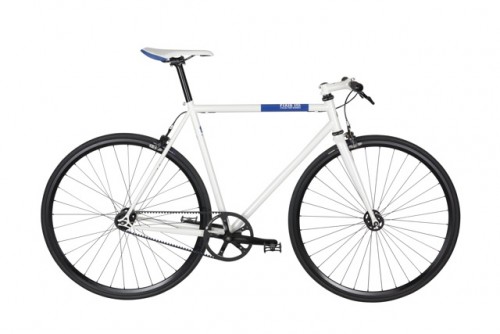 Das blieb in der Fachwelt nicht unbeachtet. So unterzog das englische Magazin Road.cc das Bike einem ausführlichen Test (das Testvideo ist leider nicht frei verfügbar!) – mit äußerst positivem Urteil: "Plus it is a very nice bike to ride and you could pay a lot for a "look at me" steel fixer and get something nowhere near as good. If you are in the market for something different this is a bike whose "difference" is much more than skin deep."
Neben einem coolen, fast schon unterkühlten Design bietet der "Friedensstifter" jede Menge an technischen Eigenentwicklungen: Beispielsweise der Double-Butted Rahmen aus 4130 CroMo und die Carbon-Gabel. Oder die Gates-spezifischen Edelstahl-Ausfallenden. Oder das Nabenset mit der weltweit ersten FlipFlop-Hinterradnabe für Gates-Riemenantriebe, die im Handumdrehen das Umschalten von Fixed Gear auf Freilauf ermöglicht. Und auch Gewichtsfetischisten kommen bei schlappen 8,5 kg auf ihre Kosten.
Was die Fixie Inc. Truppe selbst dazu zu sagen hat, seht ihr hier:
Nicht verpassen: Auch Fixie Inc. zeigen die Ergebnisse ihres Könnens und ihr Showbike "Mother Gun" (gebaut von Kai Bendixen) auf der European Handmade Bicycle Exhibition in Schwäbisch Gmünd. Und der Stahlrahmen-Blogger wird natürlich live am Messestand dabei sein.
---